This week, thing one and thing two will be 18 months old. A year and a half! Halfway to two! When did this happen? Was anyone gonna tell me? At the risk of sounding cliche, they really do grow up way too fast. Two weeks from yesterday Charlie will have her cast off and all these surgeries will be behind us. Davey runs like Prefontaine and climbs up on the couch to flip through books. It's too fast. It's just too fast.
Oh but they just keep getting prettier and funnier and prettier and smarter and prettier. They're just these balls of magic and curiosity and emotion and fingers and soft hair all wrapped up in shiny twine. I love them so.
In honor of my sweet, infuriating, wonderful balls of twine, I wanted to make a tasty half birthday treat. But one I could enjoy as well in the midst of my new 2/3 vegan diet. And then I stumbled upon a vegan blog so heavenly and inspirational.
Oh She Glows
has amazing recipe after recipe. And I highly recommend reading her background story, especially if your a mommy like me, who has battled weight issues post baby.
I found
this
awesome vegan recipe for snickerdoodles (an all time favorite) on the blog. The recipe cuts out animal product as well as a lot of sugar. And I can vouch that these cookies are sweet and crunchy and downright delightful. There's nothing about these cookies that tastes vegan. Cook them. I dare you.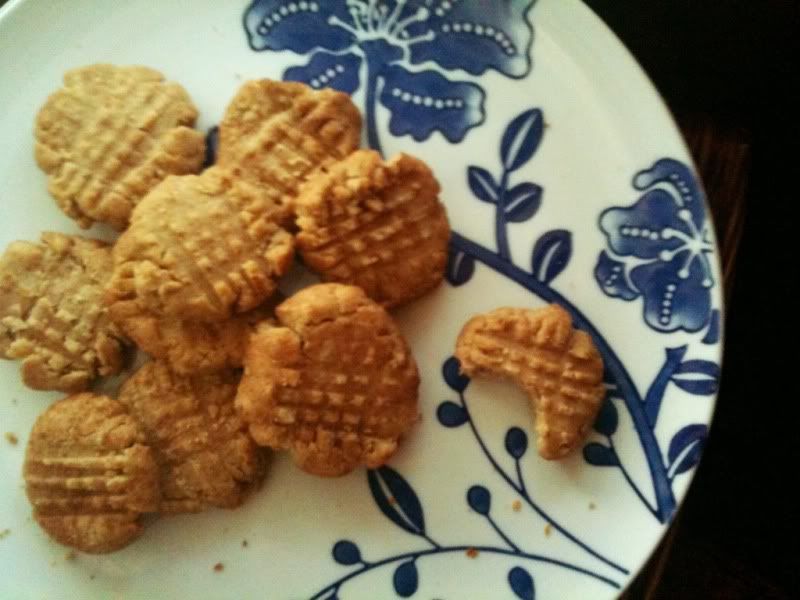 I've adapted the recipe to use natural sugars instead of refined. For the original recipe go
here
:)
Snickerdoodles
Adapted from Oh She Glows
Ingredients:
1 cup whole wheat pastry flour (or all-purpose flour)
1/3 cup raw sugar
2 tbsp honey (or molasses or pure maple syrup)
1/4 tsp cream of tartar
1/2 tsp baking soda
Pinch of cinnamon
1/2 tsp pure vanilla extract
1/2 flax egg (1/2 tbsp ground flax + 1.5 tbsp warm water)
1/4 cup Earth Balance (or butter)
Cinnamon sugar: 1 tbsp raw sugar + 1 tsp cinnamon, mixed together  
Preheat oven to 375.
Directions: In a small bowl, mix the 1/2 flax egg. Set aside. In a medium sized bowl cream the sugar, Earth Balance (or butter), and vanilla until incorporated. Add in the flax egg and beat for about 60 seconds. In another bowl, whisk the dry ingredients together (cream of tartar, baking soda, flour, and pinch of cinnamon). Add the dry mixture to the wet mixture and stir well. Use your hands to knead together the dough.
Form cookie balls from the dough, roll them around in the cinnamon sugar mixture, and place them on a cookie sheet. Use a fork to flatten each ball.
Bake for 10-12 minutes. (If you want chewy cookies bake for 10 minutes and if you want crispy cookies bake for 12 minutes.) Cool for about 10 minutes. Makes 10 - 15 cookies.
Note: I have heard that you might be able to get away with substituting the cream of tartar and baking soda with baking powder. However, I have not tested this out myself. If you try this leave a comment and let me know how it worked out.